If you do....
Whats the last scrappy product you bought?
Have you used it yet?
No
??
We all do it... we buy lovely gorgeous things... and then put it away
In this challenge you have to pick the latest product you've bought and put it on your page!
(doesnt matter if you havent bought for a while... whenever it was... find your latest thing...and scrap it!)
Remember to tell us what it is!
If its a tool... then use it! We want to see the results
If its paper or an embellie - get it glued down
Here's mine...
I bought this - couldnt wait to use it!!!
The Crafters Workshop 'SPLAT' Stencil
Its a 12x12 and just loved it the minute I saw it cos I could see misting or painting this in a controlled way! So if you arent so sure about misting but love the look or want to have a go at it.... this is a great way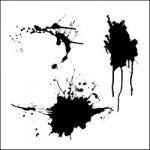 I loved the 'splat' with the drippy bits running down... oh boy I had fun! Then I held the page up and let the drips run further down...and some of the excess on the stencil too... I let that drip onto my page as well.
The mist I used is called 'Turquoise' is out of stock in
Scrap Therapy's Shop
... but there are some wonderful mist colours in the shop - you can find them here under
Tattered Angels
and
Ranger Dylusions
and there's one
Maya Orange Sherbert
.
I find the search box the best... by typing in 'mist' or 'stencil' or 'mask' as it brings them all in a collective amount regardless of brands.
The rosettes are also misted - they are
Tim Holtz 'Trimmings'
- just fabulous! The package also contains white seam binding you can spray too!
The gorgeous paper is
WeR Memory Keepers Down the Boardwalk 'Reef'
, love this cos it already comes a bit grunged and inked
The exact Prima leaves I've used arent available... but do a SEARCH for 'Prima Leaves' and there are similar there
Alpha... Tim Holtz 'Word Play' die
Just play along and be in a for a prize rak - and upload to the gallery by the 31st of October