Here's a LO that I've played with some 'Prima Flowers' but not in the way you usually 'know' Prima Flowers to be!
Lookie here:
There's three flowers - all different...
The big black one - I made from this fabulous
Prima Foam Stamp
. All that is needed is some black paint on the stamp and some scrap paper, stamp the image, and cut it out. (with a stamp like this you can use any colour you'd like to produce big flowers!) Oooh yes.. and used my
Brick Stamp
again! Weeell, I only use the bottom half of it!
Sew on a
Prima wooden button
to finish the black flower off!
The bright pink flower is a
Flocked Iron-On
(and I've previously put together a tutorial
HERE
if you'd like to find out how to use Iron-ons) I cut out the stalk and leaves of the iron-on to show the negative of the black backing paper to show through - and balance the black flower.....
Then I used the green flocked stalk and leaves for the remaining flower...which is a pink flower from the packet
Prima Lucerne Meadow Lark
just enough so the petals are poking out and a round chipboard piece from
Natures Garden Chipboard stickers packet
is added.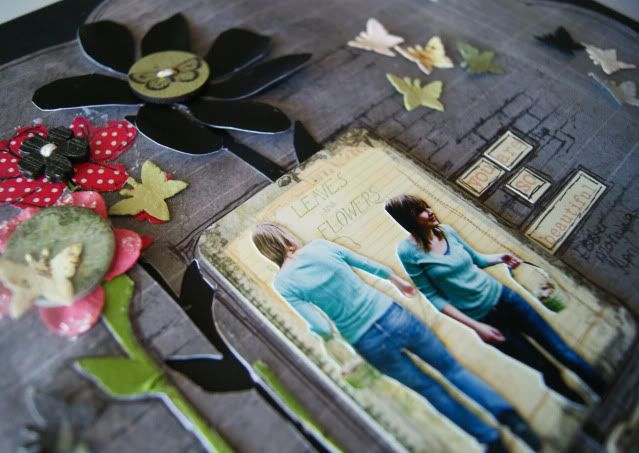 Prima products used:
Background paper cut into a diecut shape - Nature's Garden Espirit
Rectangle Chipboard Shape
(mount under the cut-out photos)
Chipboard scroll
under photo
Butterflies
Alpha - words
------------------------------
You'd still got a couple of days!
I think I need a slower life!
So forgetful lately - do you ever feel like you lose little things all the time...
put something down and boom....its gone! (rolling eyes)
I find I spend more time looking for things than anything else!
sigh
--------------------------------------------------------------------
Big HAPPY BIRTHDAY to Meaghan!!
Hope you have a wonderful DAY!!
We wish London wasnt so far away!!!
(photo taken when we were in Sydney together just over a week ago)
xx