Its all about monochromatic.... and I've used Creams to Beige to Brown
Make sure you check out the challenge criteria and the gorgeous examples the Design Team have created
------------------------------------------------
HALLOWEEN BLACK CAT STEP BY STEP
Yeah yeah - I know - we dont reeeeally celebrate Halloween in general... but for some reason I always feel compelled to at least one sort of 'Halloween-ish' project each year. Dont really know why - just cos! (I think
)
This one is of my darling Black Cat (easy subject of halloween!!!
) he's a re-educated feral cat - and his journey has been a long tough one, and needless to say - he's different from any cat I've ever owned.
The twist of it all is the LO really reflects how he sees the world - scary. He's scared of everything and everyone. Mostly he's scared of being returned to his old life. He lives in fear - and never leaves the house.
The chipboard you will find -
Eerie Chip Sticker Shapes
Isnt the chipboard cat just the coolest(it can always be painted if you dont want the dots...but I've kept the peeled off backing to use as a mask!!!) The shapes are all quite a good size (take a look at the LO to get an idea)
Using the Tree as a Mask
Using the peeled off backing as a mask - (I used the actual tree in
Oct Room One
)
I painted the background with a splash of black paint to create the dark atmosphere and let that dry, then placed the white tree backing on the painted page
Then painted over backing mask with mauve-grayish paint and this is how it turned out once the backing was pulled away. I coloured with black the parts of the branches that faded away on the right hand side just to give it more definition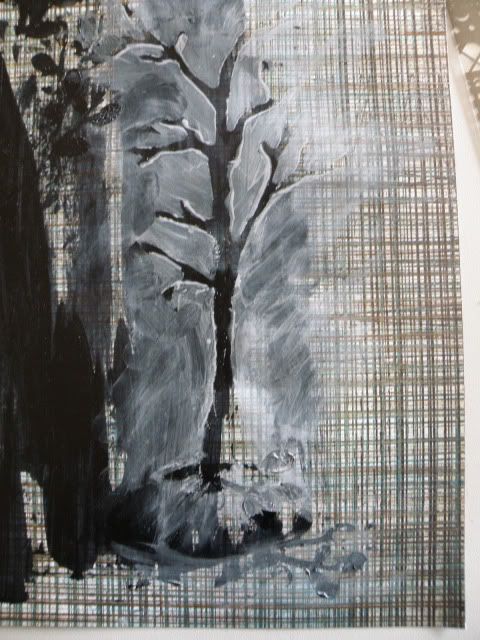 Then added all the fabulous Eerie chipboard embellishments along with the photo etc.
Basic Grey
Max and Whiskers Simon
(background paper - reverse side)
Basic Grey Flower.
------------------------------------------------------------
I've just found this older Halloween little Mini- Album (2009)
I created of my black little cat using Vintage Epherma
You can find the link to the original post
HERE
is you care to re-visit
(just scroll down a little)
------------------------------------------
And another Basic Grey LO
This is photo challenge (playing with our cameras) from last month - the photo must be used on a LO for this month...
Last month it was all about Black and White
and here's my LO with my photo from last month...
Meet Charlie - one of my close friends little puppy. He was running around with Paige (though you cant see her)
---------------------------------------------------------
I've completed a LO for
Global Scrappers
for Manufacturer which was American Craft... I was really scraping the bottom of my barrel to find any paper - the cardstock and thickers I had in plenty!
Added some lovely K&Co dimensional flowers to pretty it up! Little Paige.
---------------------------------------------
xx