Its a COLOUR challenge!
Here's my example...
and here's what you have to do.....
Pick three colours from the picture below - to dominate your project with a summer theme
I've used white, sand and aqua
Click HERE to find out all the details!!!
--------------------------------------------------
Made a little button banner.
I've really enjoyed the month of card-making at Get Creative!
---------------------------------------
Its all about a 'spooky' page...
I've used the pic I took of the hawk that nearly took Maggie's life by trying to drag her through the bars of her cage - bit by bit - only that I ran at it yelling to scare it off - twice! Yes it drew blood, horrible thing.

So here's a representation I think how Maggie views that hawk!

Products used
Basic Grey Eerie 'Reaper' Paper
Basic Grey Eerie Chipboard Stickers
Afraid of the Dark Glimmer Mist
I just LOVE these Eerie Chipboard stickers and have used not only the spider and crossbones as stickers, but also the 'backings that is peeled off the back of the stickers as masks (that we usually throw away) - over and over!

So the masking - I've used the tree, the words 'BOO' and a branch from the sticker packet...
then sprayed with glimmer mist.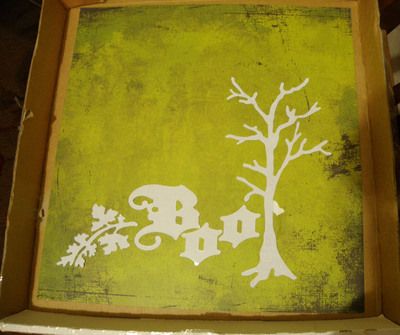 THen built the page from there...


Hope you take part - its a fun
challenge
!