Here's a fun way of doing up the old 'manilla folder'. I bought some coloured ones, and as they didnt have singular tabs across the top... I cut some into them...
Then it was fun play with Dabbers (taking the lid off and using a brush) and Stencils!
For Hannah's Folder the products used were
The CraftersWorkshop 'Aspen Trees' Stencil
(love love love this one!!) with Pool-blue Dabber (sold out) but there is
Aqua
and
Juniper
which are close in colour.
For Paige's Folder. I used
Chevron stencil
and
Snow White Dabber
And for Meaghan's Folder -
Chicken Wire stencil
and Terra-cotta Dabber (sold out) but there is a lighter one
Peach Bellini
or even go red with
Red Peper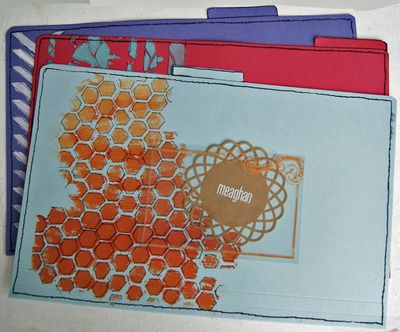 Once the stenciling dried, draw with a fine liner for definition of the image. I've also glued down the ends of the folder so they become more of a 'slip-in' folder rather than everything 'slipping out'
Each of the folders have a little window transparency - they are from My Minds Eye and are fabulous. THe ones I have are long gone from the
Scrap Therapy shop
- but there are quite a few different ones in the shop - just do a search in the 'Search Products' box on the upper right hand side once there - (copy and paste this - My Minds Eye Transparency ) and you'll see all the fabby ones that would be great for pockets!
The little lace doily name tags are a die -
Dizzy Doily
its my absolute favourite!! I have used this over and over! (any scrap paper - I'll run off in my Big Shot and pop in a box for later - and find I've always got my hand in it! The doily can be removed from the little window... and then the folder can be used for something else. Any tag or journal block will do just as well there too.
Alpha - LOVE
Lilybee Design
- for Hannah and Meaghan's names.
Webster alpha for Paige
This idea would be a great project for teenagers wanting to do up their school files... or if you'd love to do some for your primary school kids too!
Maybe they could be used for some fabby scrap files too!