Back again with another couple of ways to approach Project Life and great products that really work to keep it quick and simple!
I'm truly snowed under with work at the moment and scrapping this style is perfect for my lack of time.

Week 11
Boy, oh boy, how much do I love these .... 'WRMK's Albums Made Easy'! (title and journaling cards)
The ones I've used below are called 'Memo' and you can buy it as a
full kit
with many repeating cards OR what I really love is the
Mini-kit
which Lee-Anne has fabulously divided up so no card repeats
(21 cards of 4x6, 37 cards of 3x4's) and for $6.50 great value! There are other WRMK ranges of these cards and you can find them
HERE
. This is the first time I've worked with pre-made cards and it was soooo quick and easy! I wanted to tell the tale of two feral cats who are leading very different lives, yet both started out the same - using a colour for each cat - keeping the subjects separate, yet coming together on the one page. (you could use this idea to separate any subjects on one page
)
To add a little bit more theme to the page, used
Tim Holtz Brick Wall Die
and pressed out all the 'brick' part and put it aside leaving the negative bit to use.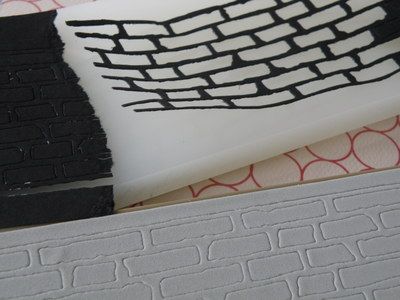 Other Products:
Teresa Collins Far & Away Alpha Stickers
Authentique 'Delightful' Alpha Stickers
Prima Flutter Bits Doodle Deux
Stazon Jet Black Ink
Week 12
Simple Stories
is another wonderful brand that makes Project Life so easy. The
page insert
gives a big space to scrap upon with 12x6, and below - three portrait 4x6's. Simple Stories makes 12x12's with these sizes to cut up to fit these spaces easily
Love my alpha dies too - for this page I've used
Tim Holtz Chip Block alpha
Other Products:
Simple Stories 100 Days of Summer Page Elements
Simple Stories 100 Days of Summer Card Elements
Simple Stories 100 Days of Summer Stickers
Prima Rusty Bucket Ink
MME Lost & Found 'Just and Ordinary Day' Title
MME Lost&Found Ruby Chipboard Elements
(little hint- for the PL albums, some chipboard stickers can be too thick for the album especially trying to keep things simple - what you can do is separate some of the layers of cardboard under the image and pull apart making it thinner
)
MME Lost&Found Oliver Buttons
Red Cardstock
(for the alpha die)
Don't forget to check Becky Higgins new range of
in store too!!!
I've also done a
REVIEW
on Becky Higgin's 'Jade' edition if you are interested in seeing whats in a kit.