Here's a lovely way to present a pocket of gift cards, tags, or coasters... gift card/s even! I've made one of these envelope pockets before and loved it to bits (and I mean to bits!!!) Time for another - this time for Easter

I've filled it with a couple of doily tags and coasters (just to show you some different uses) or you could imagine gift cards too.
Here's how its made...
Fold one oblong paper bag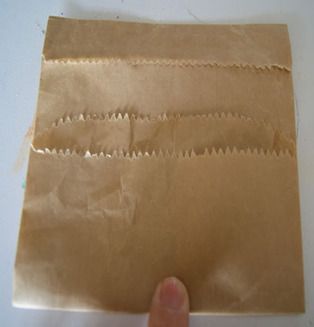 You could cut the top of it with pinking shears - sew around the edges as you please, (if you want to sew across the lower horizontal edge where you can see the seam binding on mine - then do that first (unfolded) before continuing)
After you have done that - add your decorations...
Misted
Tim Holtz Seam Binding
with
Tattered Angels Monster Mash
,
Lost & Found Oliver Chipboard
strip and 'Happy' banner piece,
Oliver Buttons
(to look like a little nest of eggs)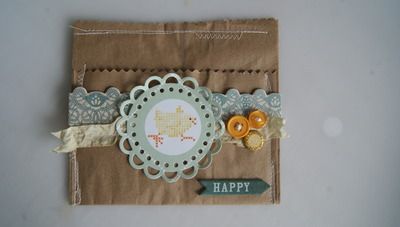 If you dont want to sew - then glue and draw on some stitches!
The little doilies were made from
Cosmo Cricket Honey Pie Quinn paper
(an oldie but a goodie for Easter!!!)
And there are so many choices for doily dies and to name a few =
Dizzy Doily
Decorative Doily Duo
French Pastry Doily
Nestabilities Eyelet Circles
Nestabilities Eyelet Ovals
- ooh these ones in Scrap Therapy shop look like easter eggs!
Here's the coasters which are doily stickers from Lost & Found Oliver Sticker Elements and backed with
Oliver Yellow Honey Paper
(the yellow is on the other side of the cream)
Have a bit of Easter fun with some lovely presentation just from decorating a simple paper bag!
-------------------------------------------
We are having a NEW kitchen put in....
Today the plumbers and electricians came and 'unplugged' everything so no water or oven, cooktop etc....
Over the weekend dh will be gutting it completely and the kitchen people turn up first thing Monday morning....
Already we received the wrong oven and a new one has been ordered - that will take another 10 days.... sooo annoying!
Roll on the end of next week!! I would love to skip this part!