Weeeeell before we know it, Easter will be upon us and its early this year being end of March.
So at
Scrap Therapy
, we've made a start thinking about getting cards ready
This week I've made a little 'EGG' card... it really was quite easy.
For the face of the card....I've cut out two sizes of egg shapes - but there needs to be three eggs cut out..... one bigger, and two the same size: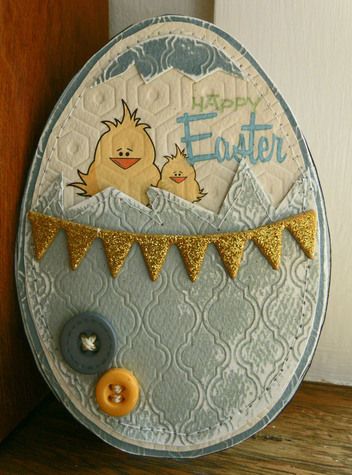 I love the products I've used which are mostly
MME Lost&Found 3 Oliver
For the one bigger 'egg' I've used the darker side of
MME Oliver Blue Quatrefoil Paper
and one of the slightly smaller 'egg' is from the reverse side which is lighter blue (both blues are looking quite 'grey' at in the pic though, they are 'blue-r... prettier!) Cut another of the smaller sized egg shapes from
MME Oliver Yellow Honey
using the reverse side which is the off-white
It's now a matter of placing the off-white egg on top of the darker blue bigger size.... Cut a 'crack' through the ligher blue egg - and sew (either with machine or draw stitches) across the 'cracked edge. THe coolest thing about this 'patterny embossed' paper is that it SANDS really well - so it gave a bit of definition by sanding down one side.
Attach all the 'eggs' together and sew around the oval edge. With the little 'cracked' paper left over - cut it smaller with another 'cracked' edge and pop it up the top (dark side up) so it looks like a 'lid'....
NOW for the decoration....
the gold glitter trim is awesome its
MME Oliver 12x12 Chipboard
and add a couple of-
MME Oliver Buttons
Now to the rub-ons... They looked cute.... those sweet little chickies and the 'Happy Easter' title... . you can find them
HERE
Last thing that needs doing is to back them onto some cardstock so it can be opened and written in...it could be more eggshapes or even put on a square or rectangle card.....ooor you could use it as a tag!
HOpe you have fun making up your easter cards!!!
-------------------------------------------------------
Just a proud mummy-moment here
Hannah receiving her Yr 12 awards in 'Drama' and 'Religion and Philosophy'
from the Principal - a quick grab photo!