Boy, nearly April already!
Almost ran out of time to get this little card down for
---------------------------------------------------------
Here's an array of the weatherboard papers and ways to use them from MME's 2012 release....
'On the Bright Side'
has some fabulous coloured weatherboard-look papers.
Weatherboard LO #1
I've woven the diagonal
RED
paper into the horizontal
BLUE
paper - so fun! (weaving is getting a bit of a resurgence!) You might wonder why there is a 'chip' cut out of one of the red pieces - that happens when I cut out the middle of a 12x12 paper if I need a small bit but the photo covered this
The little
banner
is a diecut from an accessory sheet which as loads of useful bits on it! Making up the banner is
Miss Caroline Twine
and
Black Lost&Found2 Buttons
The photo has a lovely
transparency
over it that gives a soft white doodle effect around the edges and some
decorative brads
Bigger Red Alpha
little red alpha
Label stickers -
blue framed label
,
blue label
and
date ribbon label
Blue bow
Weatherboard LO #2
Again, I've used this
pink gingham paper (reverse side)
in a previous project and had cut out the middle to use a little piece, so now I'm using the remainder as the background paper by covering up the hole with
grey and white weatherboard paper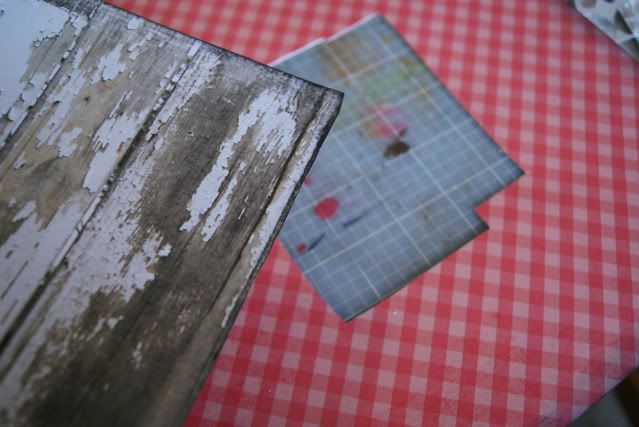 Cutting out the butterflies and long strips of the negative leftovers (from the middle
) of this
butterfly paper
forms a nice element to add to the LO too.
Slicing down the side of this
Fiddlesticks Journal Card
is another way of double-using a product. The numbers are attached to the side of the weatherboard papers and I'll use the rest of the journal card in another project probably butted up against a photo for example
Adding some
banner stickers
,
cream cotton lace
,
paper clip
,
small tan and cream trim
and
, pale blue trim
with
brown glitter alpha
and
little red alpha
to finish off.
Weatherboard LO #3
Weave the
orange weatherboard paper
with the
grey wood
works well, and ink all edges with
black ink
Adding stamping for some sort of background like a
script stamp
(not quite the same stamp as I've used but just as good) then over stamping with another more solid element gives an interesting additive to a page.
Finishing off with:
ticket rubons
,
buttons
,
banner buttons
and
'love to see you happy' sticker
Flocked Hay coloured Thickers
Hope you can pop along to Scrap Therapy to join the chatter and have a go at some of the challenges.
xx