At
This month's inspiration is the BATHROOM!
Your challenge is to be inspired by each inspiration picture and scrap it! You can be inspired by anything in or about the picture
THe STAR winner and STANDOUT/S will be chosen on their scrapping interpretation, creativy and relevance to each picture.
Please make sure when uploading to the gallery that you put which ROOM (ie: 1,2 or 3) your LO is created from (its hard to tell sometimes!) and pop in an explanation what inspired you because its not always obvious ... so hints are great!
You can enter more than one room, or all three for more chances!
However - no combining!! Each will be a separate LO for a separate room - be inspired by the colour and/or design; use specific elements or shapes if it takes your fancy, or even use it as a sketch for example!
Here are the 'rooms' with my interpretations under each of them (and some tips on how they were created if you are looking for ideas or new techniques to try )
This month I'm playing with PanPastels, so I'll give some tips on how to use them, but next Friday night will go into full explanation and details on them.
(You can use whatever products you like for your rooms
)
The PanPastel Colour pack I'm using is
HERE.
There's twenty pans of colour in the pack. The tiny amount used each time is so minimal, they will last for a very very long time. Well worth the money spent. I reach for these to colour just about everything especially if you want a more controlled amount in a specific area. It can be sprayed with a fixative... I dont tend to - but it's recommended
ROOM 1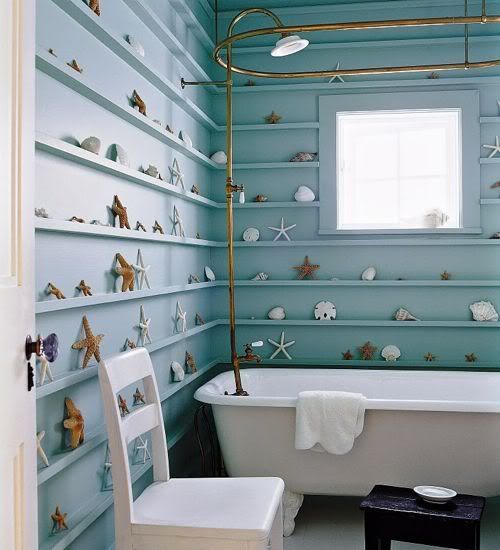 The horizontal boards in the pic were the motivation to use
MME White Wood
paper, the white bath and chair in the pic are the inspiration for the doily diecuts and the beachy feel.
Here's a pic of the main products used: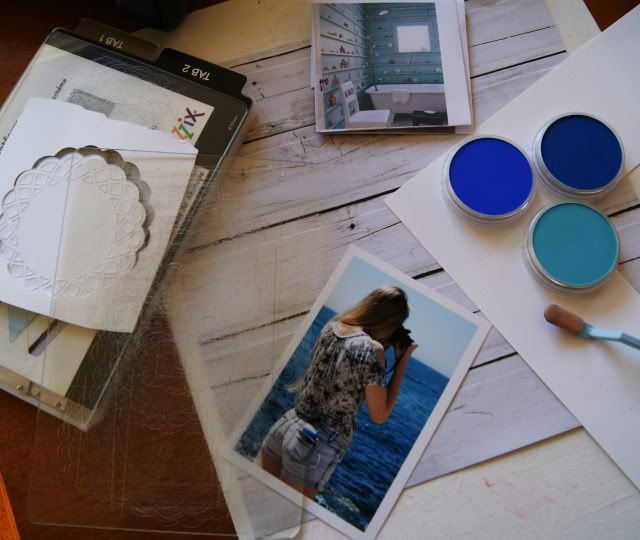 This is the Turquoise colour and the sponge (along with other sizes) comes with the box of panpastels along with tools!)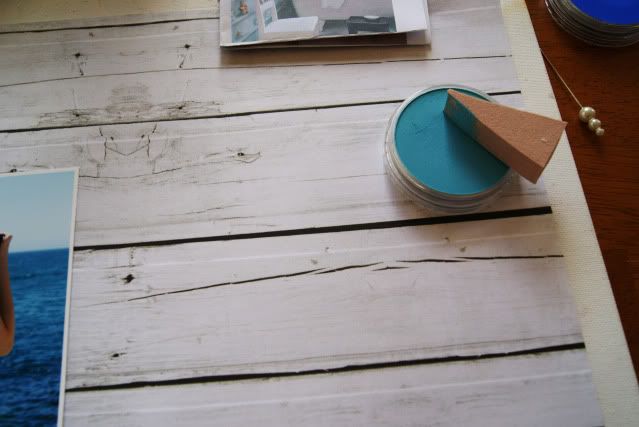 Colour the top of each 'weatherboard' with a thick stripe of the Turquoise, and then using a tool, colour a thinner stripe of a darker blue - Phthalo Blue to give more definition and shadow-like.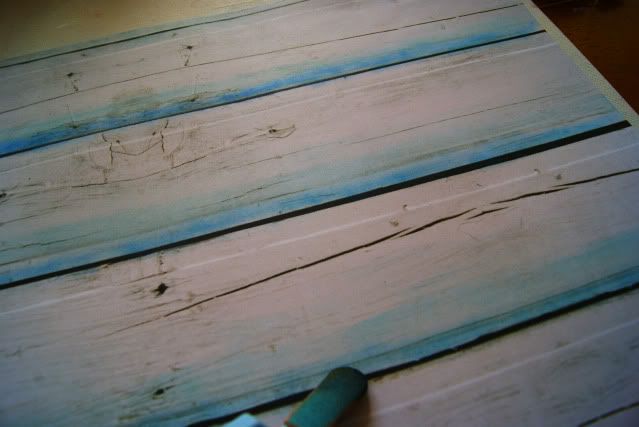 Doilies:
I've cut two doilies with my bigshot. My die isnt available in the shop, however check out
Spellbinders Nestabilities
and some of the
Sizzix
. Then once cut out, put them in an embossing folder and pop back through the big shot (or cuttlebug etc)
With the Turquoise and Phthalo Blue - smudge over one colour after the other in difference areas on the doily so its varigated.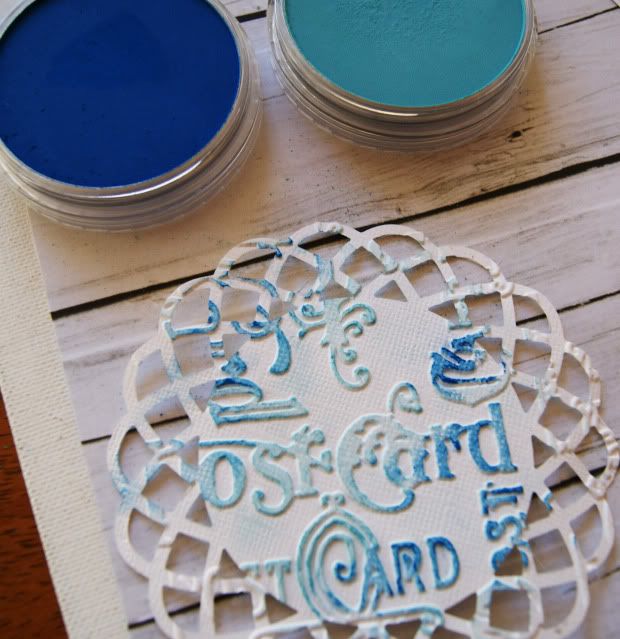 Other products used:
Prima Alphabet
Prima Wheel and Birds
White Weave Cardstock
Tissue paper and open weave bandage
ROOM 2
This one gets a little arty - with the drawings keeping fairly basic, and its all about practising on a spare piece of paper before putting it onto your LO. Time to get a little brave
- have a practice: whats the worst that can happen?
(skrew it up and throw it away
) lol- done it plenty of times!
The inspiration is the colour...., the poppies and and some of the placements of the elements in the pic
Using
Yellow background paper
(reverse side in shop) and
12x12 diecut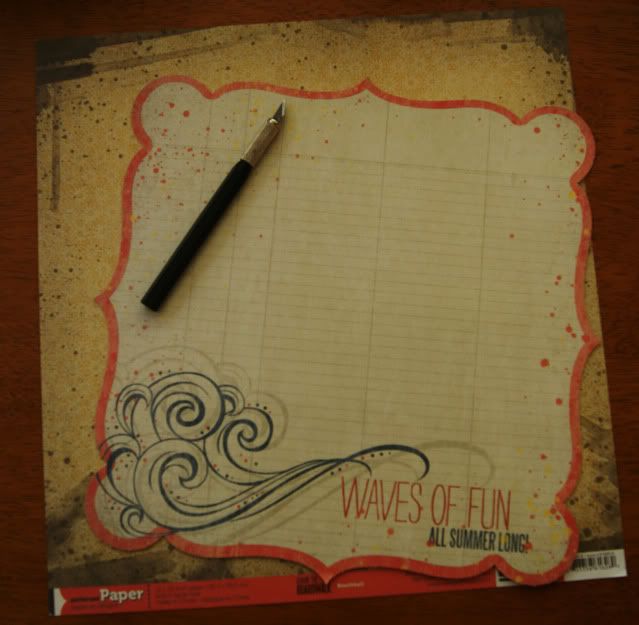 Cut out the diecut to use the border part (will use the centre part for something else later on
)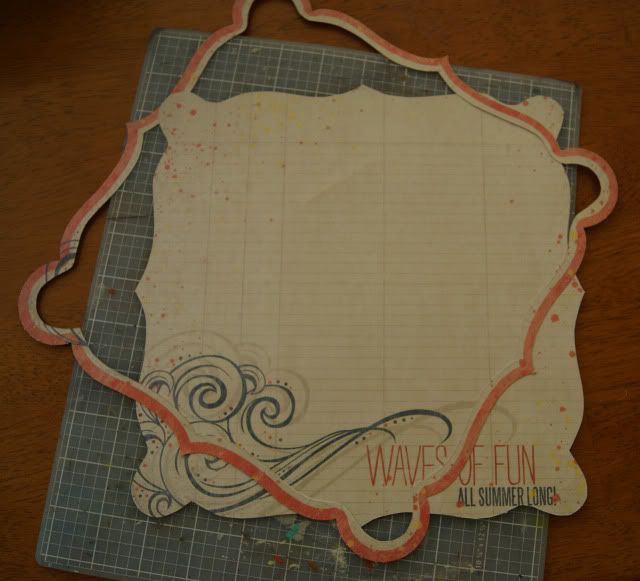 Stick on the border and spread some gesso or white paint with a spatula (spatulas give a much different effect than paint brushes) Sorry bout the photo - didnt realise it was burry until upload time!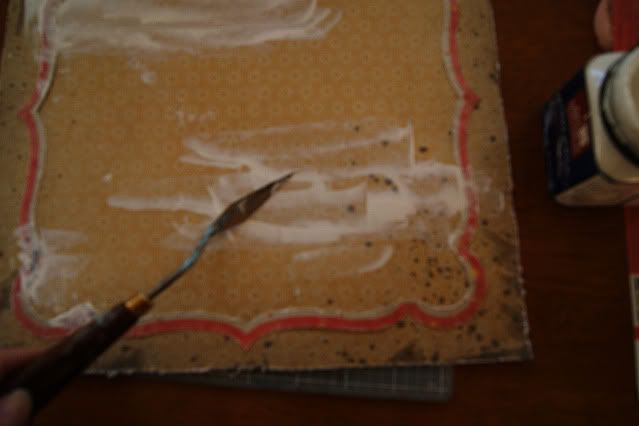 Place the
Resin shutters and windows
each side of the photo, then brush 'Permanent Red' over the raised lovehearts of the shutters.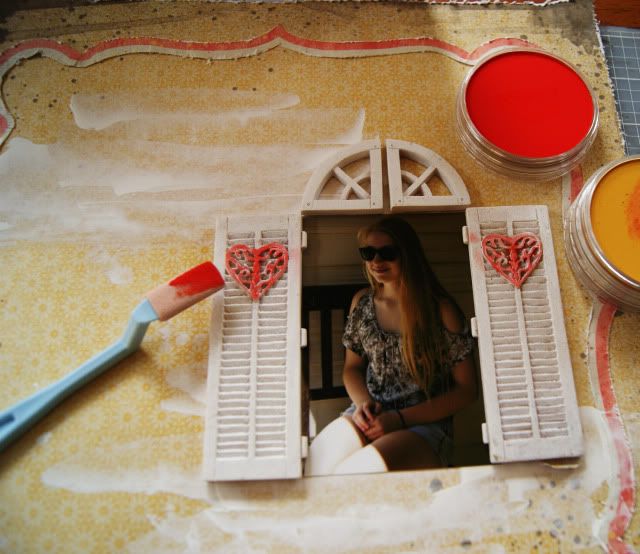 Now for the drawing and colouring part....Smudged some colour lightly across the gesso, now try a basic outline, and colour in using a tool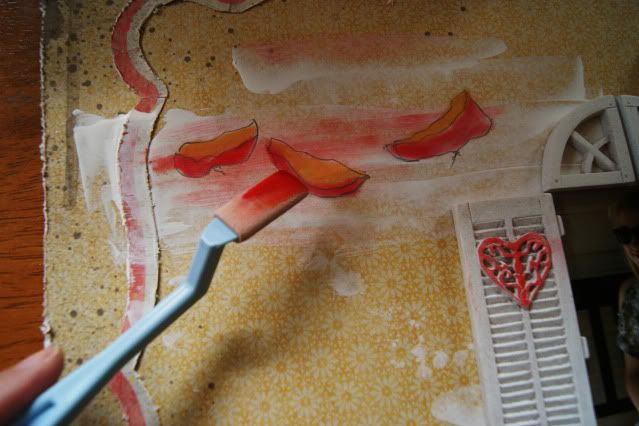 Scribble in large black stamen, outline with dark pen too.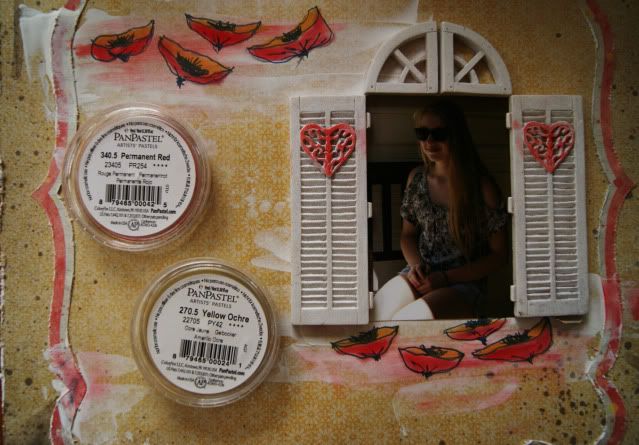 And add string for stems and
Thickers - Patchwork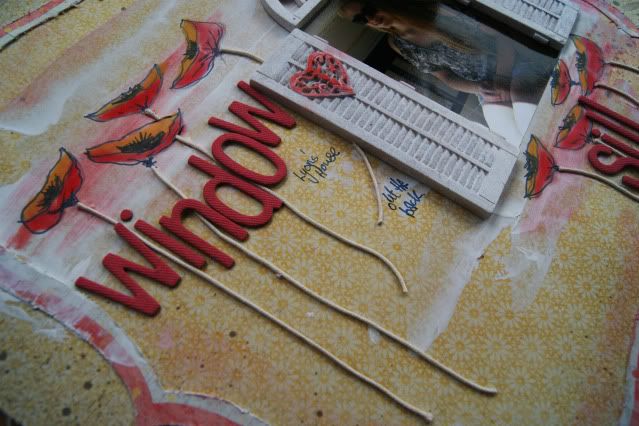 ROOM 3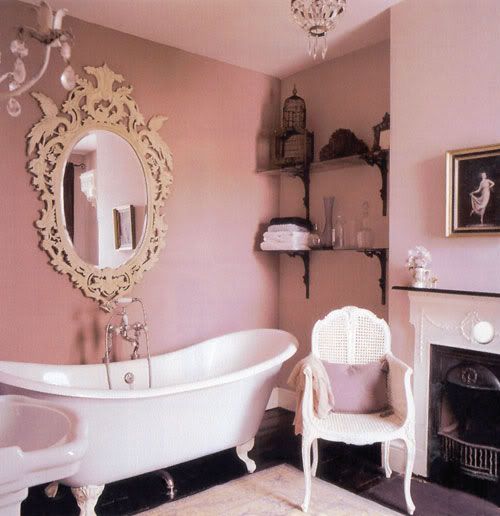 Again I'm inspired by the colour, the frame on wall and the white bath and chair along the bottom of the pic - so there's line of white hearts on the LO. The papers are
MME Down the Boardwalk (brown)
and
Prima's Flights of Fancy 'Tiptoe'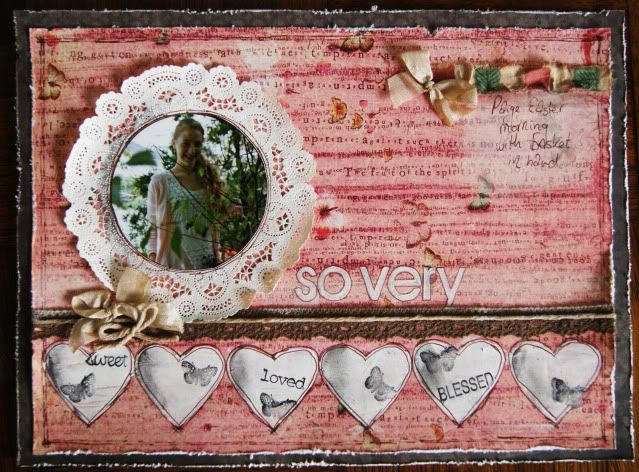 As its an A4 size, I've used a strip of the Prima paper and punched out a heap of hearts in a row, then used that as a template painting in some gesso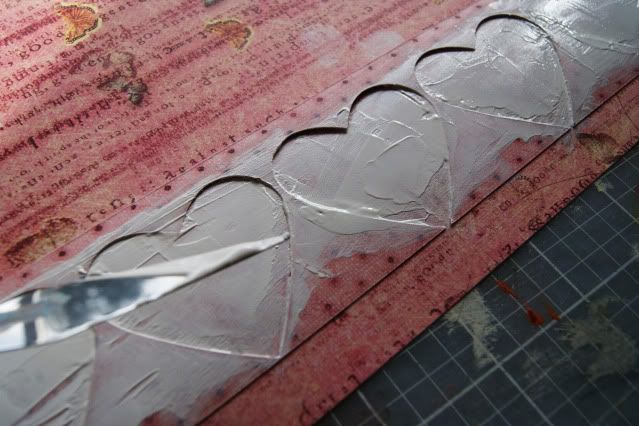 Did you know you can use the PanPastels on stamps....just like ink! (and my gesso was only half dry), only PanPastels dont dry out nor do they need re-inking!
Add some sentiments too: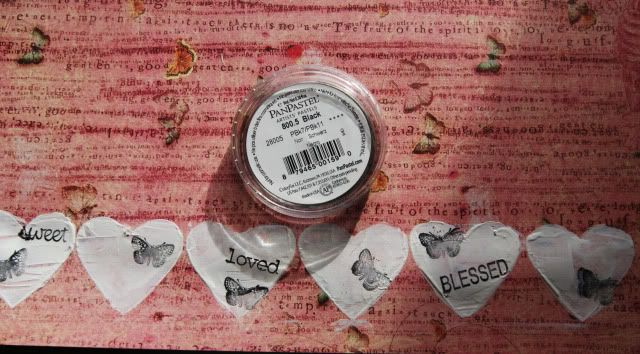 And shading on one side of the hearts.....this adds a kinda 3-d look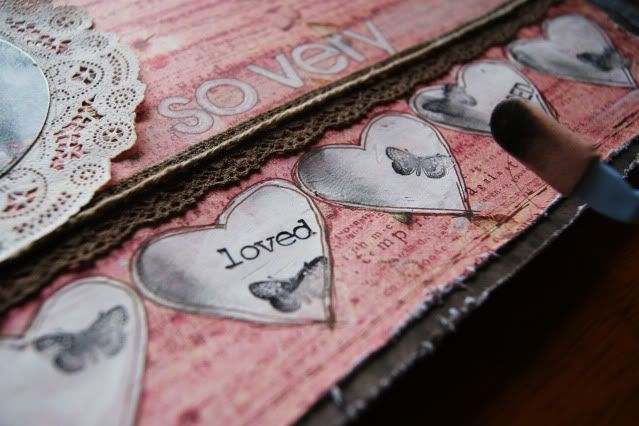 If you need to calm a patterned paper down to add journaling..... smudge on some PanPastel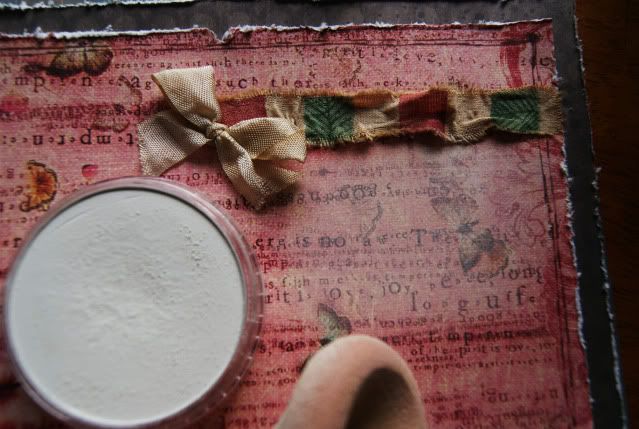 Other products used : white paper doily,
MME Brown Crochet Trim
, string, some bows and torn strip of striped fabric.
Hope you join in the fun.......
and look forward to see your interpretations of these rooms if you dooooo!!
xx