Colour Challenge
Sprayed 'slate' glimmer mist roughly over the magenta cardstock so it would peek through the seams too.
Paige
Little blue button banner
----------------------------------------------
The March LO challenge is a fabulous sketch
Art studio window
------------------------------------------------
March LO Sketch
Miss Caroline products:
Dolled Up 'Day' Worn Paper (background paper)
Dolled Up 'Favorite' Paper (doily, hexagons)
Fiddlesticks 'You & Me' Bloom Paper (tag)
Howdy Doody 'Beautiful' Roses Paper (frame)
Fiddlesticks 'Story' Farmhouse Paper (backing for banners)
Dilly Dally 'hello' Rubons
Dolled Up 'Princess' Layered Stickers
Follow Your Heart Decorative Brads
Lost & Found PomPom Trim
Lost & Found Union Square 'Favorite' Trim
So Sophie Savvy 'Best Thing' Alphabet
-------------------------------
This week, I've played with the MME 'On the Bright Side' papers.
I love them - one of which are the denium coloured papers.
When I saw
this denium 'stitched' paper
, I felt compelled to punch out some shapes in the squares... so out came a couple of hearts, flowers and a bracket die-cut.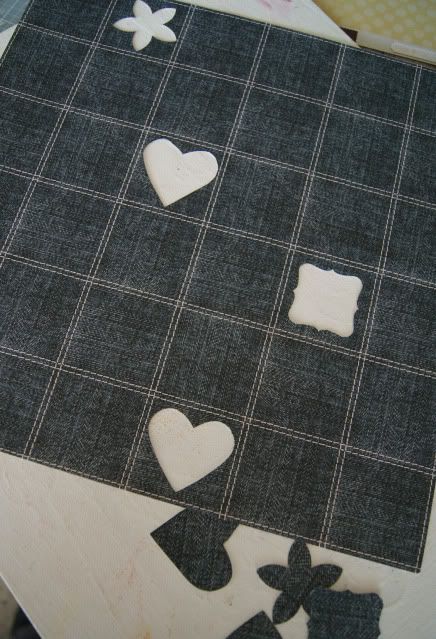 Of course a little distressing doesnt go astray... it gives it a little '3D' effect rather than a flat one.
I totally love the larger zigzaggy patterns and tend to be drawn to them like I do to gingham.... so this time I've used the
yellow
and
red
(reverse side) zigzag ones to back the punch-out holes. (oh and there's a
blue
too but didnt use it this time)
Paper saving tip: I tend to cut out the middle of my papers if I need only a little bit, cos the rest can be used another time as a background paper with photos and embellies etc covering the hole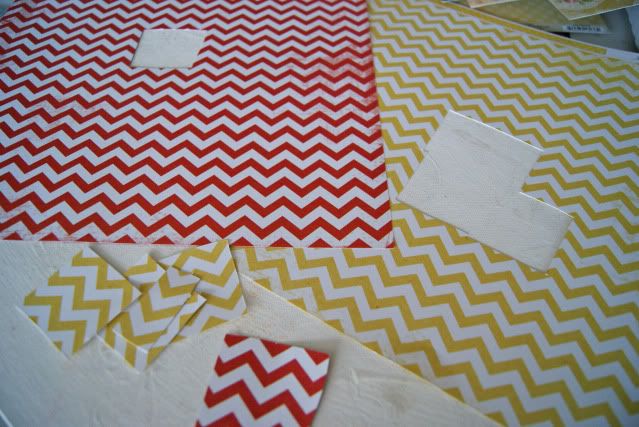 Here's the finished LO: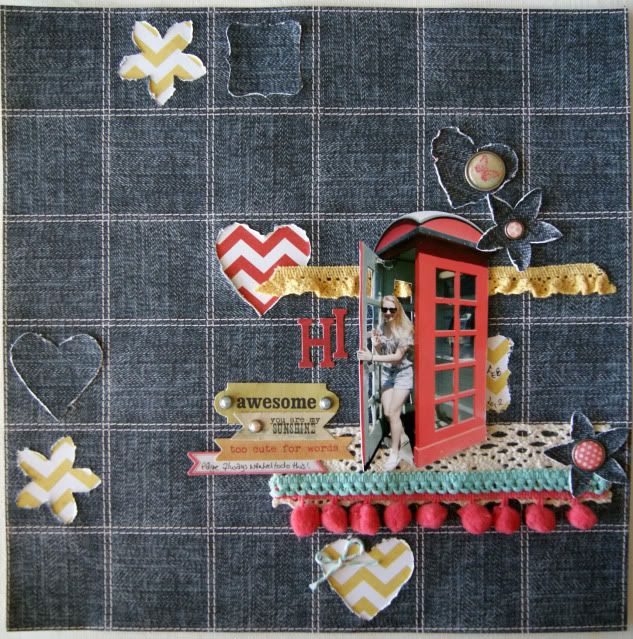 Here's a list of the embellishments available in the shop
On the Bright Side 'awesome tag'
This is an accessory sheet full of fabulous tags, journal blocks and banner pieces
Red Alpha
(love this cos its a great font, size and a 'red' red
bauble trim
Natural coloured lace and blue trim
Too cute for words sticker and blank ribbon sticker
And if you put 'decorative brads' in the search box - all the fabulous MME ones will come up!
Close up
The punch outs can be used again... with a little bit of distressing and a MME brad perhaps..
xx