I cant imagine where October went? Did it even happen?
Time is moving so fast and before long....(dare I say it??) that 'C' word will be here!
And I cant wait...
I love CHristmas -
There! I said it! LOL!
Here's a quick little update...
----------------------------------------------------------------------
One of the things I love to do is to craft dresses out of paper!
So I've had a bit of a play here with ORANGE! Love it!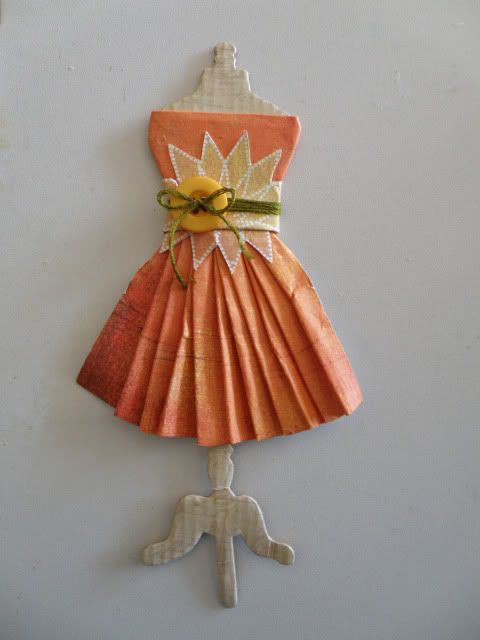 Its made out of
Marrakech Vanilla Chai
and
Lime Rickey Orange Cream(much more orange in real life than in the shop where its quite yellow - the pic about does it justice!)
both these lines were faves of mine a while ago
Here's how you can put a little dress together...
Cut out the desired length of the skirt, spray with water first though (its easier to fold that way) and pleat
Find a manequin on the net and cut it out - or you may have one in some shape or form or be clever enough to draw one - cut out of card board though - it just stabilises it a bit more. Glue your pleated skirt to it.
Now its time to add the bodice - easy enough to wrap a strip around the bust of the manequin (I sprayed the paper with water first so it would adjust around the shape better. Glue it on
Time to cut out a flower shape from the Marrekech paper - (actually I cut out three, one for the skirt - and too for later on....
)
Here we place a crease in the flower cut-out, so it fits nicely on the waist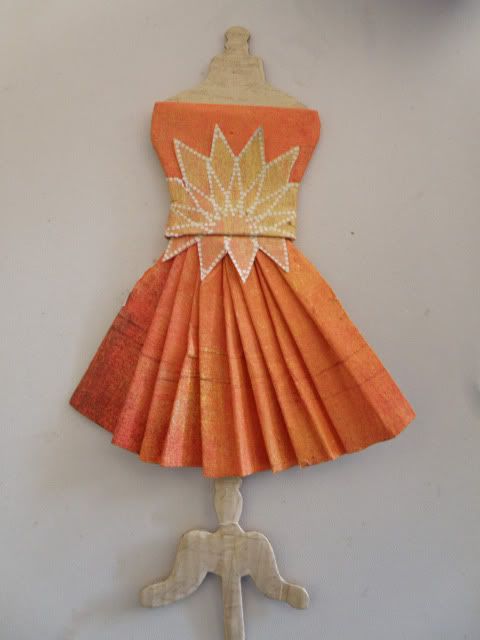 And bind some green embroidery thread around it to give the waistline some definition
Finish the little dress off with a lovely big button -
Sugar Rush Buttons
and a little bow.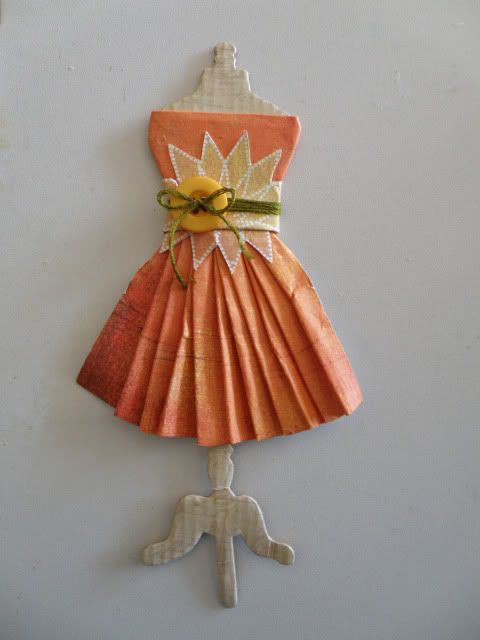 And we can put this dressed manequin embellishment onto a LO...
The Alpha is
Basic Grey Pheobe
These are great cos you can get two sizes in two different colours!
So here it is...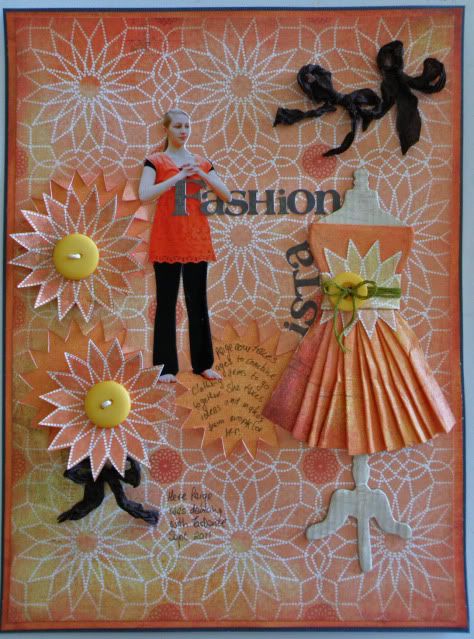 I've used the rest of the orange Lime Rickey paper as a base for the the Marrekech paper which as you can see has three flowers cut out - so it shows the plain orange through. So I've put a button and bow on the two other flower cut-outs (bent the edges up a little) and offset them to the side a bit of their original place, And used the third space as a journaling spot!
Some of Basic Grey's papers have fabulous patterns where you can get creative with cut-outs! And it's background papers will forever remain my faves!
------------------------------------------------------------------

And another letter of my
its 'B' this time
my little Finches
--------------------------------------------------------
This time the criteria is
Colour -GREY
Word - PLEASE
Technique-UNUSUAL STAMPING
I stamped my image with a large foam stamp, lifted it a little, then dragged it down the page.
Hope you are all having a happy start to November!