Last night our Aunty Pasty passed away. She had been quite sick for a long time...
I looked through some of my scrapping to find these wonderful photos I scrapped of Mum and Aunty Patsy when they were young girls. We've talked about these photos not long ago at Aunty Patsy's house. The giggles between them were so funny. Their eyes lit up recalling the 'old days'.
Mum (Left) and Aunty Patsy (right)
The dancing girls
and
making their own dresses for dances with satin shoes
Today the girls and I stayed home and had a day just being together.
It was overdue.
--------------------------------
I LOVE working with Canvas and Prima does it so well!
I've got two projects to show you here.....
First up is the MISTABLE CANVAS SHEETS-
Wow this was really SOMETHING to work with. I've looked at them before and wondered what they were 'reeeeeeeelly' like, and so glad I took the chance finally.
What a treat this turned out to be!!!
Here's
where
you will find this particular one in the shop (and
here
are other designs too -just scroll down a bit. I'm going to get more!!)
I didnt cut out the shapes first because I wanted the different coloured mists to kinda overlap each other a bit to make them look more 'variegated' if that makes sense
(Sorry bout the pic, but its a night-time shot-it doesnt show colour properly - just wanted it dry for the next day)
(Now its morning and better colour and light!!) I've cut the flowers and leaves out and arranged them how I thought they would look
But what I thought would look cute were little crocheted 'stamens' and some wonderful kindyglitz for the edges of both the leaves and flowers!
Then I did a spray mist splotch on some
Kraft
and held it up so the extra mist ran down the cardstock - they made the stems for the flowers!
AND lastly - all put together and decorated
I've used
Moulin Rouge Chipboard Journaling Stickers
Prima Cardstock Stickers Shabby Alpha
(Do a search in the shop on 'mists' - and it should bring all all the brands and colours of the mists available
)
SECONDLY -
Is the Screen Printed Canvas - I love the colours in this...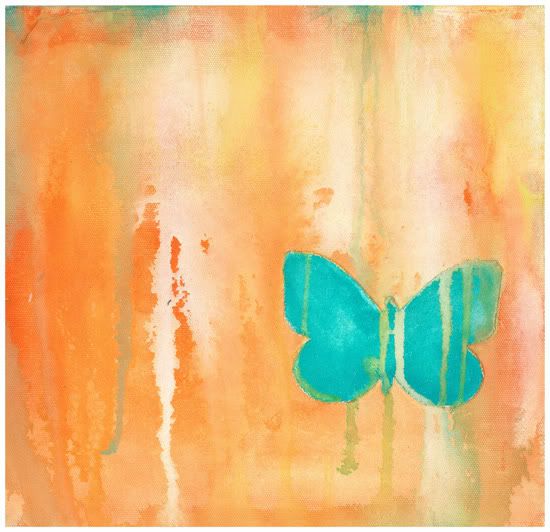 I'm adding this paper to the mix
Annalee Collection 'Parlor'
I've cut out most of the lengths in this, inked and overlapped the pieces.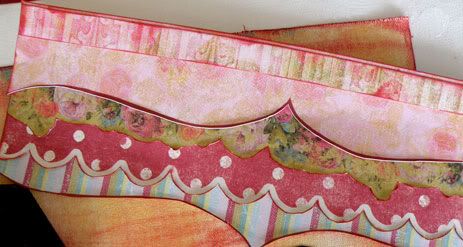 Then I've inked onto the canvas to mimic around the border of these overlapped strips so it gives a bit of shadow definition when the LO is put together. And I've placed a cut-out photo of little Hannah on the butterfly to give her 'wings'
And here it is finished!
These are the products I've used for the alphas, hearts, trim, and little butterflies
Prima Cardstock stickers Shabby
Prima Cardstock Stickers Pastiche
Prima Cardstock Stickers Water Colour
--------------------
loved the how this turned out. It's little Hannah.
--------------
xx