I cant believe how fast this month is going!! Five minutes ago it was Easter and last week felt like Christmas! How on earth did May happen so quick??
I'm itching for the end of the month (maybe thats why its flying past) Cos the girls and I are off to WARM Cairns for some rest and relaxation!! I've booked into an apartment (where we usually stay) in the middle of Cairns for shopping and lagoon swimming - then we are off to
SCRAP THERAPY
at Babinda for a couple of nights with Lee-Anne and Danny, and a wonderful get-together with the local girls! CANT wait!!! AND then Paige, Hannah and I are boating it over to Green Island for a few days (very big grin) To finish our holiday off - the last few nights stay at our fav place which hosts four pools Paige and Hannah just adore this place! And in the meantime, I'm hanging on by a thread to get there.... its sooooooo cold here and work is sooo busy.
----------------------------------------------------------
STEP BY STEP
I've got a couple of little projects to show you in this post, and there's a bit of a story behind it......
You know when you might be working with a range, or colours or bits and pieces and they get lost under things, drop on the floor or completely go missing altogether because the project isnt done in one sitting.... (weeeeeeell maybe you dont....BUT I DO!) I'm hopeless for losing things on and under my desk! (even in one sitting!) So I usually grab one sheet of paper, fold it in thirds and tie a ribbon around it. It doesnt have a bottom in it to stop things falling out though you 'could' do that... but for me it has to be something simple and quick - to be practical just as a storage holder to keep things together...
Sooooooo what I originally started to do was show you how to make my little 'Fish' embellie... but I lost 'stuff'!!!
And thought.... 'GOOD GRIEF'... make a folder, gather the stuff, and then show the fish LOL!!
Here's the folder
!!! (thought I'd pretty this one up for you)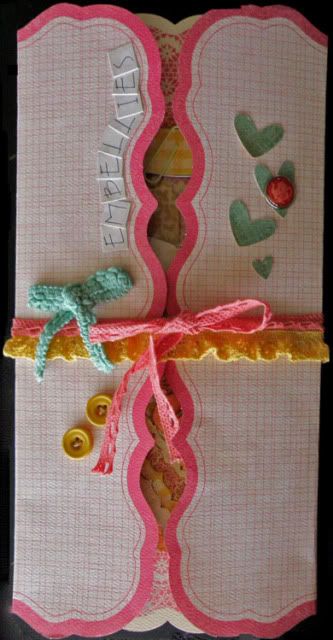 This is using one piece of
Stella &Rose 'Memories' Woven paper Diecut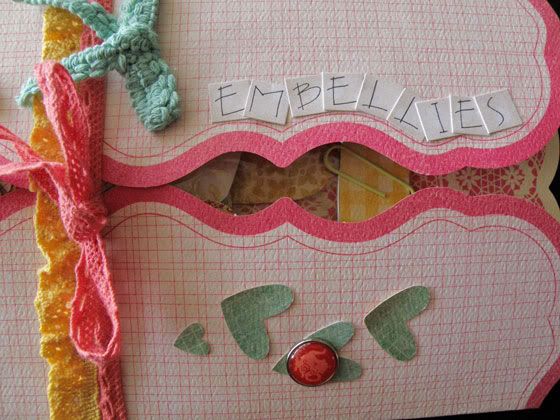 Using some trims and buttons
Hazel 'Memories' Trim
Gertie 'Delightful Trim
Hattie 'Remember' Buttons
Once you open the folder to see the inside... this is where I store my 'bits' (its tidy right now...but wasnt!) I glued some very thin strips down the creases of the 12x12 diecut.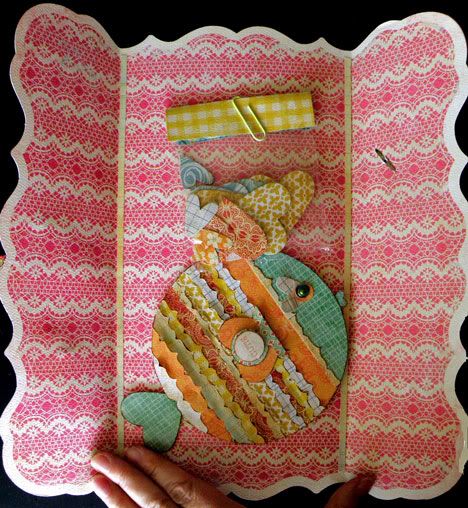 And as you can see - this doesnt have to be a folder... you could use it as an enclosed LO! Place pics and embellies too! There's no end to what you could use one sheet of 12x12 diecut paper for!
The little hearts
.... I usually try to punch scraps into shapes and pop away for when the need arises...so my MME scraps - had the heart punch nearby so had a bit of a go with that!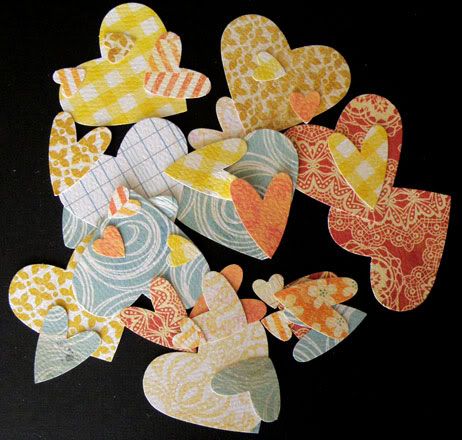 And to be nice and tidy (and keep pretty for you) made up a little packet for them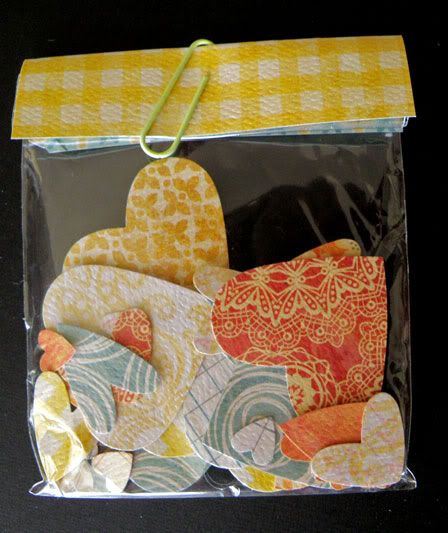 AND now for the FISH!
As you can see this is bits and piece-y too!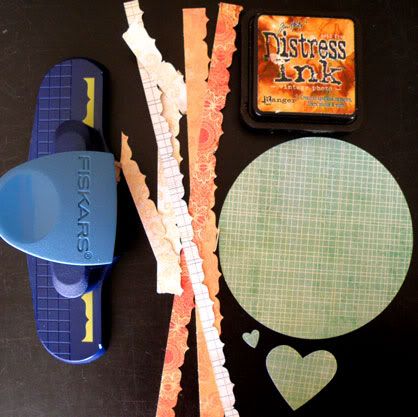 I did have these bundled into the folder...
Anyway, lets put it together to make the end result...
Make a circle with paper...
Just punch out those strips with a waters edge punch or anything scallopy like that.... lay them out on top of your circle just to measure how many you need (as above) and ink the edges.... place the scallop side towards the fish tail and the straight side towards the fish's eye.... start at the tail and work towards the fish's eye sticking them down...only put the glue along the straight edge and very slightly turn up the scallops to give a 3d-ish effect.
Turn the circle over and trim off the excess strips along the circle shape.
Then ink two big hearts and stick one as the tail and the other one as a fin... and the tiny heart as some lips! I've used a couple of little paper circles and a brad for an eye, but you can use what you like. Dont forget to ink right around the fish to finish...
I've used a little tag to dress up the fin
Stella & Rose Mabel 'Joy'Layered Stickers
Here are the Stella & Rose papers in the hearts and fish...
Hattie 'Remember' Roses
Mabel 'Joy' Crocheted
Mabel 'Little Lady' Fine Flowers
Mabel 'So Sweet' Herringbone
Gertie 'Friends Forever' Tapestry
Hattie 'Boy' Tapestry
Here's a link to a LO I made back in March with this little fish embellie in a few sizes

and here's one from last year

and one from the year before that too!! LOL
As you can see... I love these little fishes!!
------------------------
These are some LO's created for
Challenge Masters
- a wonderful little challenge site with many challenges offered. I find it perfect for 'chill-out' scrapping.
---------------------